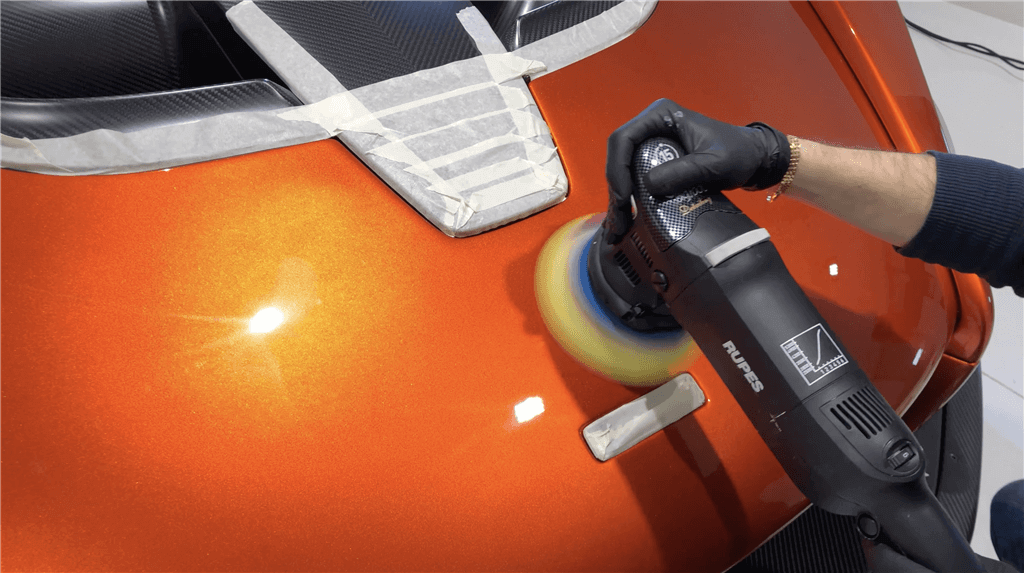 Car Polishing
Professional multi-step car polishing that removes micro surface scratches, holograms and imperfections from the car body, restoring shine and lustre.
Car Polishing is an operation that removes micro surface scratches, imperfections such as swirls and holograms from the car body, as well as any halos and opacity, restoring its original shine and lustre.
Car Polishing is part of the Detailing process, i.e. all those steps, from washing to polishing, done to bring the car to even better condition than when it leaves the factory.
Car polishing and detailing go through a number of stages, which are necessary to do the job properly and achieve the best possible results. It starts with an assessment of the condition of the bodywork and paintwork, followed by thorough washing, and finally decontamination. Only at the end is the polishing performed.
01. Body and Paint Assessment
In this phase, a general assessment of the condition of the bodywork and paintwork is carried out, identifying the imperfections to be removed. We will also assess the level of dirt on the vehicle's surface, and then determine the most effective type of wash, in order to achieve a thorough cleaning of the bodywork.
Washing the car, in up to 24 steps, immediately follows the initial assessment phase. Car washing is necessary to make the surface of the car body clean and smooth, in order to prepare it in the best possible condition for the subsequent polishing phase.
Decontamination is the most important step, which is necessary to remove any contaminants and imperfections that could not be removed with the car wash. These are mainly imperfections that are not visible to the naked eye, but are nevertheless still on the car body.
Polishing is executed through Car Detailing, a meticulous and painstaking operation that eliminates even the most imperceptible scratches and imperfections. We can achieve up to 99% defect correction.
Finally, high-quality nanotechnology is applied to the bodywork to enhance its shine and provide additional protection. At the end of this stage, the car will be as bright and shiny as if it had just left the dealership.
To book your car polish at our centre in Ticino (Switzerland), or for more information, you can contact us via the contact form, or by phone on +41 (0)91 967 40 40.